It has been a hectic couple of months. I was in Mexico competing at the ISSF World Cup in Guadalajara at the start of March. Then I came home for a week and travelled to Brisbane for the team training camp before Comm Games. At the conclusion of the training camp I flew down to Sydney to compete at the ISSF Junior World Cup where I was happy to come away with the gold medal and two new junior world records. Then Dad and I drove up to the Gold Coast to meet up with the rest of the team before going into the Village.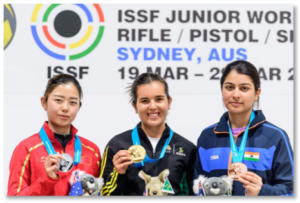 The village was awesome! Similar to Rio but 10 times better! We had TVs in the rooms this time so when we were having down time we could watch other events. Some of the facilities in the village included; a smoothie bar (my personal favourite), gym, recovery centre, dining hall, souvenir store, a big green oval, baristas making coffee, swimming pools, games room, Australia team hangout and a bar for when athletes finished competing. The vibe in the village was amazing. There were different activities and events on each day in the village. They had puppies come to visit and an Easter egg hunt for Easter. All of the volunteers throughout the games were super friendly and happy which made for a very enjoyable experience.
I attended the welcome ceremony for the Australian team and the opening ceremony. No words could describe the feeling of walking out into that stadium at a home games. I got goose bumps when we were waiting in line to make our entrance. The crowd's response was just unbelievable! I felt an immense sense of pride in myself, the Australian team and my country. I am so thankful that I can compete in a sport that I love and receive opportunities like these.
The day after the opening ceremony the shooting team moved out of the village to check in to a hotel in Brisbane for the duration of our event. While most of the events took place on the Gold Coast; shooting, along with cycling was held in Brisbane and it was more convenient to stay there and not have to travel over an hour each day to get to the range.
I spent the days leading up to my event training and preparing myself to compete. When the day of competition came around I knew that I had done everything that I could in preparation to deliver my best result. I had never competed at a home games before, so I didn't know quite what to expect. Before my first round I was super nervous but once I started shooting my nerves settled a bit and I just stuck to my usual routine. I shot my second round on the finals range with the big grandstand behind the layout. The crowd pushed me that whole round, clapping and cheering after every station. I shot a perfect score that round (25/25) and it would have to be one of my favourite moments of the games. After three rounds I finished with a qualification score of 71/75 which equalled the previous games record set by my coach Lauryn. Panagiota Andreou from Cyprus smashed the record scoring 74/75.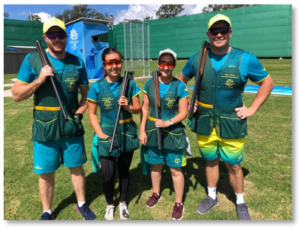 After a shoot off I held bib number 3 going into the final. I shot a personally disappointing final to drop out in 6th position at my first Commonwealth Games. However, making the final and being at the top of the field is still an achievement. When I went behind the grandstand after the final to see everyone I was overwhelmed by how many family and friends had come to watch me shoot – a sea of Team Aislin shirts! Also, the people I didn't know who wanted to see me. I am beyond grateful to everyone who has followed my journey, supported me and joined Team Aislin.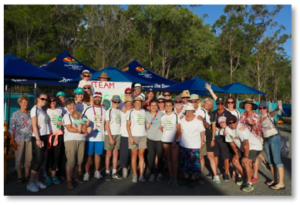 In the days after my event I went out and supported my other teammates who were still competing. It was awesome to watch Emma Cox win the silver medal in women's double trap and I couldn't be happier for my amazing friend Laetisha who won the gold medal in women's trap, defending her title from Glasgow in 2014. And it was her birthday! The shooting team had a very successful games, winning 9 medals; 3 gold, 5 silver and 1 bronze.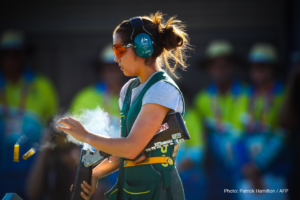 I'm currently sitting in Gold Coast airport waiting for my flight back to Melbourne. I have really enjoyed my Comm Games experience, but I am looking forward to having some time at home and getting back to my normal routine. I'll have a week off training and then I will continue on my journey to the Tokyo 2020 Olympic Games!!!
I also have a very exciting surprise waiting for me to pick up when I get home….. (see photo)