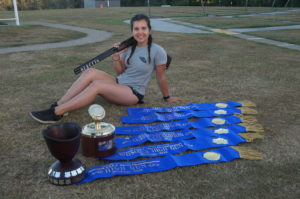 Recently…
Aislin is a quietly confident 21 year old, from Lakes Entrance in eastern Victoria. She completed year 12 in 2018 at Nagle College in Bairnsdale where she was on a Sporting Scholarship for sporting and academic excellence.
Aislin made her Olympic debut in Rio in 2016 and was a finalist at the Commonwealth Games in 2018 at Brisbane during the Gold Coast Commonwealth Games. In 2018 she set the Junior Women's ISSF Skeet World Record at the ISSF World Cup in Mexico. A few months later she beat her own record shooting 117/125 and taking the Gold Medal at the ISSF Junior World Cup in Sydney.
Aislin teamed with Danka Bartekova (Slovakia) and Francisca Crovetto (Chile) at the 2018 Green Cup at TAV Umbriaverde to take the Silver Medal in the Women's Teams competition.
In January 2019 Aislin became the first woman in the history of clay target shooting in Australia to win an Overall Championship at the ISSF National Championships in Brisbane. No female athlete has previously won an overall championship in Australia in any ACTA discipline, including DTL and American Skeet. To win the Overall Championship Aislin shot 121/125 & 118/125 for a combined 239/250. Taking out the AA National Championship, Women's National Championship and Junior National Championship in ISSF Skeet at the same event, Aislin won 6 of the 7 titles she contested in open, junior and women's divisions, with Chloe Tipple from New Zealand taking home the Women's Commonwealth Championship.
Where did it begin…
Aislin's interest in clay target shooting came from following her father around simulated field shoots at Bairnsdale Field & Game at the age of 10. She obtained her junior firearm permit and a 20 gauge Yildiz as soon as she turned 12 and developed quickly into a very capable simulated field shooter. Club members and visitors were fascinated by the petite girl and her seemingly oversized shotgun, though there was no question amongst anyone who observed her shoot that there was a natural talent.
In late 2012 after watching the London Olympics, she commenced coaching with Australian Olympian, Lauryn Mark of Corporate Shooting Stars. She continues her great friendship, and coaching relationship with Lauryn, and these days also lists her father Dave as her other personal coach.
Lauryn was excited to meet Aislin, another left hander, and Aislin was inspired by the Olympian to switch disciplines to shoot skeet rather than simulated field. The seeds of the idea of representing Australia were planted, and a friendship developed. They set out a plan to reach the Olympics in Tokyo in 2020. The plan was a success but ahead of schedule. Aislin became the youngest shooting athlete to ever shoot for Australia at Olympic level when she was selected for the Aussie Olympic Team to shoot in Rio in 2016.
Quickly outgrowing the 20 gauge, Aislin's relationship with Beretta began with a new Beretta Silver Pigeon in October 2012 and the coaching and practice continued. She joined the ACTA affiliated Bairnsdale Clay Target Club in early 2013.
Aislin competed at her first american skeet event in May 2013 at the ACTA National Skeet Championships at Wagga, and followed that with the NSW State Skeet Championships at the Sydney International Shooting Centre in August. It was here she got her first taste of success taking first placed junior, and second place in 'C' Grade in the 20 gauge State Championship having taken both guns along for good measure.
Since that time she has achieved a variety of state and national titles in both individual events and overall high gun at American Skeet events. She holds state titles in several gauges in either her grade, Ladies or Juniors (or a combination of the 3 at some events) in Victoria, South Australia, Tasmania, New South Wales and Queensland. In 2015 she became the only Victorian to have shot in all three VCTA postal teams – Open, Ladies & Junior. In 2015 she added state titles in ISSF skeet, medals (gold, silver & bronze) during the Aus Cup series, and won gold at the Shooting Australia International Grand Prix. 2016 saw her take out both National & Commonwealth Championships in ISSF Skeet, and there have been many gold medals at domestic competition since. 2017 she won the Commonwealth Championship for the second consecutive year, and Silver at the National Championship where her good friend Esmee Van Der Veen (NED) took Gold. Aislin also on the National High Gun for the 2 day 2017 competition.
In addition to several Gippstar monthly awards, and the 2017 & 2018 GippStar Open Sportsperson of the Year, in 2015 & 2016 she was named East Gippsland Sports Foundation Athlete of the Year for her achievements in shooting.
Joining the Shooting Australia Aiming4Gold squad in mid 2015, she competed at her first international events at the ISSF Junior Cup (Suhl, Germany) attaining her Olympic Minimum Qualifying Score, and placing 6th in her debut event. She travelled to Lonato, Italy for her first World Championships in September 2015 placing 23rd.
In January 2016 she became the youngest woman to win the Australian ISSF Womens Skeet National Championship at Brisbane Gun Club just 12 months after her national debut. In December at the Oceania Continental Championships at Sydney International Shooting Centre, she equalled the Oceania Region ISSF Women's Skeet record of 71/75, setting a new Oceania Junior Womens Skeet record. She returned to the venue a week later to shoot the same score in the Junior Championship.
In January 2016 she attained the #1 ranking in Australia (& the Oceania region,) based on her aggregate average performance. (source: Shooting Australia)
In June 2016 Aislin finished 8th at her debut World Cup event in Baku, and in 2017 shot at World Cups in New Delhi & Acapulco, where she finished 12th. She also competed at the ISSF Junior Grand Prix in Suhl, Germany taking the silver medal.
Aislin's relationship with Beretta Australia continues to grow. Aislin a proud member of the Team Beretta, as a factory sponsored athlete. She currently shoots ISSF Skeet with a Beretta DT11 Black Skeet custom fitted at Beretta in Dandenong, and practices on Matarelli traps also supplied with the assistance of Beretta Australia.
Aislin shoots Bronze Wing Ammunition 24 gm ISSF Skeet shells.
Aislin is also still well supported by the club where it all began – Bairnsdale Field & Game, and trains both there and at Bairnsdale Clay Target Club.
A list of her achievements can be found elsewhere on the site.
When she's not competing or training, Aislin is a quietly spoken but confident young lady, who doesn't give much away about her shooting successes. She enjoys a wide range of sports recreationally and is dedicated to her study. She enjoys playing piano & flute and living in the outdoors in the environment that living at the beach offers.
She is committed to her Olympic dream, and is destined for success.
What is Team Aislin?
Team Aislin is the group of family, friends and businesses who support Aislin on her quest to represent Australia in ISSF Women's Skeet. The support from Team Aislin is a key to her success, and Aislin is genuinely grateful to have the group of friends & family, businesses and sponsors who are supporting her to achieve her Olympic dream.
What is ISSF Skeet?
Skeet shooting is a form of clay target shooting. It is shot with a 12 gauge shotgun – in Aislin's case a Beretta 692 Skeet custom fitted by, and supplied with the support of Beretta Australia. In ISSF events the cartridges contain 24 grams of lead shot with which the targets are broken. Aislin is sponsored by Australian ammunition manufacturer, Bronze Wing Ammunition.
The skeet discipline is shot on a semi-circular layout with two clay throwers, referred to as "traps" in houses at either end of the semi-circle. The athletes shoot 25 targets from 8 positions, or stations between the two houses, seven of which are on the semi-circle and an eighth which is near the centre. Many stations see two targets released simultaneously.
Athletes shoot combinations of single targets and pairs of targets (one from either side of the layout) from the 8 positions.
Athletes acquire the target visually, mount their gun, aim and shoot the target in less than a second, in many cases acquiring and shooting a second target from the opposite side of the ground a fraction of a second later.
Spend some time on Aislin's site to learn more about this exciting sport, and come back regularly to see where she's been recently and what she's achieved.
Aislin's medium to long term aspirations are to win a medal for Australia at the next Commonwealth Games in 2018 at the Gold Coast, and to represent Australia at Olympic level.
In order to pursue these goals Aislin has shifted her focus to competing in ISSF Skeet at Australia Cup and international ISSF skeet events, though when looking for competition that will challenge her mentally she will still shoot some American Skeet in the ACTA State & National Championship carnivals where Australia is fortunate to have a very high standard of competition.
Thanks! Enjoy! And get out to your local club and try clay target shooting soon…