Korea was by far the easiest international trip I have ever done in terms of distance and jet-lag! Living in Australia, anybody who has travelled overseas knows that there really is no such thing as a short trip… unless you're flying to New Zealand. To get to Changwon we had three flights and the longest was only 11 hours. But my favourite part, was the fact there was only 1-hour time difference!! It was amazing to have no jet-lag and no troubles sleeping 🙂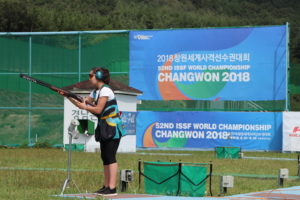 Before I left, I was told by a couple of my other teammates (who were already over in Korea) to expect it to be wet, hot and muggy. I had prepared myself for the worst and arrived to clear skies, sunshine and beautiful weather. We were blessed with perfect conditions for training in the lead-up to comp.
On second day after we arrived we couldn't get access to the range for practise because of other events that were on, so we went for a bit of a look around. I visited the Changwon Marine Park and checked out the impressive views from the 28th floor of the Solar Building.
Both days of competition saw rainy, overcast conditions. Fortunately, it being Winter back home I had had plenty of experience training in the rain, so it didn't bother me that much. Even though it was wet it was still a lot warmer than the weather in Victoria!
I shot 68/75 on day one. The competition was pretty tough, so I knew I needed to work pretty hard the next day in order to finish well. I came out the next morning and opened up with a 25/25. Finishing with a 20/25 put me in 9th place leaving me 1 target short of the shoot off to make the final.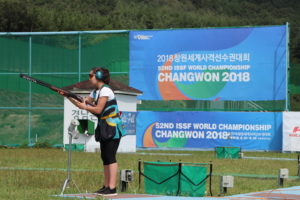 While I was personally a little disappointed with my own performance in Korea, I am my harshest critic. The experience I gained from this event is only going to make me a stronger competitor. I know that I have to take the positives from this event and move on. I achieved another top 10 finish which I can be proud of.
………………..
Now I'm home and have settled back into everyday life. For now I'm having a bit of a break and taking the time to focus on my Y12 exams and finishing school.
As this was my last event for 2018 I have been able to look back on what was an incredible year for me. My top highlights include;
Making the final at the Commonwealth Games in April with 71/75 and finishing 6th
Winning Junior World Cup Gold in Sydney in March with 117/125
Finishing 9th in Korea at the World Championships in September
Winning a silver medal in the teams with Danka Bartekova and Francisca Crovetto at the Emirates Green Cup in Todi, Italy in July
Women's ISSF Skeet Australian National Champion
Winning the Victorian Women's ISSF Skeet Championship with 117/125 and 57/60
I owe a huge thank you to all of my sponsors and everyone who has supported Team Aislin. It has been a big year and I am so grateful for your support 🙂 Bring on 2019!!
BERETTA
Peter Dullard Motor Group
Bronze Wing Australia
PILLA Australia & On Target Sporting Arms
Ballistic Equipment & Sports Technology
TRFM
Dryfire Targets
Bk Kitchens
Dahlsens Mitre 10 Bairnsdale
Cranes Asphalting & Bitumen Sealing
Bairnsdale RSL
Bairnsdale McMillan Chiropractic Centre – Chris Long
East Gippsland Shire Council
Darren Chester (MP)
Tim Bull (MP)
Go Shooting