It's been a busy end to 2017 with a series of great results for Aislin over the past few months.
At the World Championships in late 2017 Aislin finished 4th at her second Junior World Championships at Fox Lodge Shooting Centre north of Moscow. Finishing just one target off the podium the event was a great experience. Returning to Australia to complete the selection series for the Australian Commonwealth Games Team, and the Shooting Australia Performance Series events, Aislin continued her good form finishing the year unbeaten in both, winning the Shooting Australia Performance Series outright, and taking top spot in the Commonwealth Games selection series. Aislin has been nominated by Shooting Australia, along with 2014 Commonwealth Games Gold Medalist, Laura Coles from WA to represent Australia at GC2018 in April. The pair will be a strong team for Australia in the Women's Skeet event on April 8th.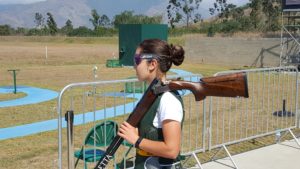 Both competed at the test event on the new purpose built range in Brisbane in October, contesting both the Commonwealth Shooting Federation and Oceania Shooting Federation Championships. Aislin took Bronze in the Commonwealth Shooting Federation Championship, and Silver in the Oceania Shooting Federation Championship.
2018 started in Echuca for the ACTA ISSF National Championships. Aislin took out both the Commonwealth Championship and the National Championship in ISSF Women's Skeet, and the Overall High Gun for the Championships. Having previously taken two of the three National Titles in each of 2016 and 2017, taking the trifecta for 2018 was an exciting way to finish the Nationals.
The next few months will be busy with Aislin heading to the first ISSF World Cup in Guadalahara, Mexico in early March, immediately followed by the ISSF Junior World Cup in Sydney and the Commonwealth Games in April.With the change in rules to Women's events shooting 125 targets, same as Men's competition (though not at Commonwealth Games,) it promises to be a busy and exciting first half of 2018.