I guess you could say I'm pretty familiar with the trip to Suhl as this was my fourth time competing in Germany on this range. I'm lucky that I can sleep on planes pretty easily so I usually adjust to the European time zones quickly on the way over. On the way home it's a completely different story…. As I am writing this I currently feel like I need a nap as it's almost 5pm and I've been awake since 4am! But instead of napping I'm going to head to the gym to boost my energy and get the blood flowing after spending countless hours sitting down on a plane.
………………..
My fingers were crossed getting off the plane in Frankfurt, hoping for beautiful European summer weather but for the most part of the trip it was cold and drizzly. Each time I have been to Suhl we have had completely different weather, so I packed for just about anything. In 2016 we arrived and there was enough snow to have a snowball fight! I was lucky this trip that skeet was the final event and the sun came out 🙂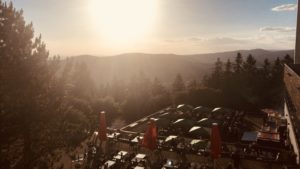 There is not a whole lot to see and do in Suhl apart from go to the shooting range and visit the gun museum. I spent my days at the range; training, supporting the Aussie trap teams, competing and returning to the Ringberg Hotel at the conclusion of each day for some food and a good night's sleep.
In my event I finished 9th, falling short of the final by 3 targets. This was a disappointing result for me as I know I am capable of much better. I will take away what I can from the event, learn and use it to make me stronger for next time.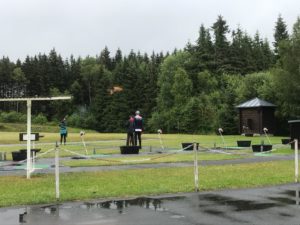 I always enjoy junior trips! And this year was no different. Although I didn't achieve the result I wanted it was amazing to have all of the other trap guys and girls come out and support me when I was competing. It was also great to watch Alexis and Nathan win a silver medal in the trap mixed teams event! 🙂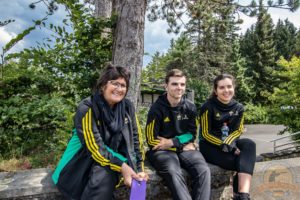 ………………..
I will be spending the next week and a half training hard before I fly back to Europe!! 🙂 I am already counting down the days until I can get back to some warmer weather.
I'll be competing at the Emirates Green Cup in Todi, Italy. I travelled to this event in 2016 with my coach Lauryn. Unfortunately she couldn't make it this year so Dad gets to come with me!
Exciting times ahead!!