I actually wrote this on my 17 hour flight home from Dallas to Sydney on the way back from Mexico. I'm posting it now because I have just updated my website with a new look! Head over to teamaislin.com to check it out as well as my first blog post which is from the ISSF World Cup in Guadalajara. I'm thinking I will try and do some more of these as it's a great way for me to document my trips and give you a bit of an insight as to what goes on when I travel overseas! 
Don't get me wrong I love the country I live in, Australia is a beautiful place and there is no where I would rather live. But seriously… there is no such thing as a 'short' flight overseas. It's pretty much a minimum 13-hour flight to get anywhere! Guadalajara in Mexico was certainly no different; from the time I left home to the time I arrived in Guadalajara, it was over 24 hours. Thankfully I can usually sleep pretty well on flights.
I was still pretty tired the day after we arrived, so when Laetisha suggested a tour of a local town called Tequila I was all in. Perfect way to spend a day getting over jet-lag. It's always good to be able to get out and do some touristy things when we travel, because quite often we only get to see the range and the hotel and that's about it.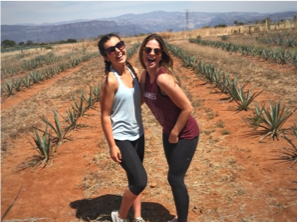 It was really interesting to see and learn the whole process of how the make tequila. I had no idea how labour intensive and intricate the tequila making process was! Let alone the fact that tequila is made from a fruit called agave that looks like a giant pineapple.
The following day was our first opportunity to get some training in on the range in Guadalajara. Each new international range I go to seems to be just as impressive if not more impressive than the last one. The clubhouse facilities were fantastic, and the weather was perfect!
Each layout in Guadalajara had a slightly different background. Something we don't often come across in Australia is ranges where the grounds slope up and away from you at the back of the layout. This took me a little bit longer to adjust to, and I didn't shoot as well as I know I am capable of in the event.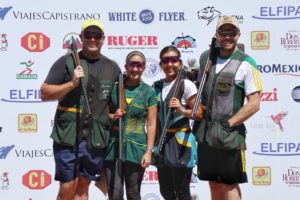 Day 1 of competition was a tough day at the office. A bit frustrating for me but I definitely took a lot away from it as I was able to come back with a more positive finish on day 2.
I finished 18th. I'm still the youngest on the open circuit by a couple of years, and it's a privilege to be competing amongst such an amazing pool of talent and experience.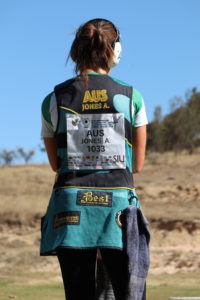 It's not often in life you get an opportunity to say you hold a world record in anything, so I guess that's something. But I hope that I can break my own record in Sydney in a few weeks at the Junior World Cup and hold the record with a score that I can be really proud of.
Whilst I was in Guadalajara I was lucky enough to be able to experience some authentic Mexican food. Wow! Can I just say, if ever you are in Mexico you have to get some tacos! So different to how we do them here in Australia, but in a good way. My personal favourite were the fish tacos.
It's definitely true what they say about Mexican food, it's impossible to eat Mexican food without making a mess!!