The minute I arrived home from Germany I had been practically counting down the days until I got to go back to one of my favourite places in the whole world… Italy!
This was my third trip to Italy since the start of my international career and it just reminds me how lucky I am to have these opportunities to travel the world doing the sport I love.
………………..
Travelling so frequently does have its occasionally perks. Over the last couple of years I have accumulated thousands of Qmiles points with Qatar airways and was able to upgrade one of the legs on the journey to Italy. It's a pretty long trip to get anywhere from Australia so it was so nice to have some space and experience the luxury of business class! Too fancy for me I think.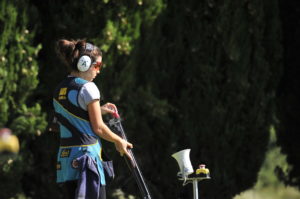 Within the space of a few days I went from training at home in 4 degrees, wearing three pairs of pants and two jumpers to training in 30 degrees in a t-shirt!! It is summer in Europe at the moment and the weather in Italy was beautiful.
The first day we were in Italy, we met up with two other Australian skeet shooters – Keith and Luke – and went to a range about 30 minutes from where we were staying in Todi. We were welcomed by a lovely family who owned the little club. I really shouldn't say little though because it still had better international standard facilities than most clubs in Australia! And just when you think things can't get any better, they cooked us a proper Italian lunch and then the whole family came and ate with us. Truly an experience to remember! The hospitality shown towards us – just some skeet shooters from Australia – was incredible.
For the next few days I was fortunate enough to have the opportunity to shoot with the Chilean skeet team and their coach Christian.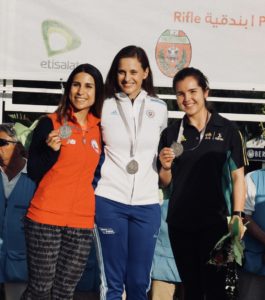 The first four rounds of competition I shot pretty well and was sitting in the top 6. A few mistakes in my last round cost me and I dropped back to finish in 12th place. Together with Francisca from Chile and Danka from Slovakia we won a silver medal in the teams! Plenty of positives to take away from the event as well as valuable lessons learnt in my last round.
Once competition was finished I had about a week left in Italy before it was time to head home. I made the most of the good weather and easy access to different ranges and got in a few more days of training.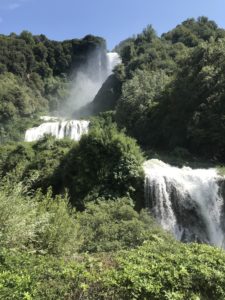 It is unusual having extra time in a country after competition has finished. Usually we are pretty much fly in and fly out, so we don't get to explore much. This trip I was able to watch the trap shooters compete, explore the town of Todi, see the nearby Marmore Falls, spend some time relaxing by the pool and enjoy the Italian food. Todi is perched up on a hill so the restaurants have beautiful views!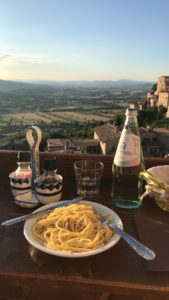 I've got a little bit of time at home now to continue training and catching up on schoolwork before I head to Sydney for another performance series event and training camp in preparation for the World Championships which are in Korea in September.